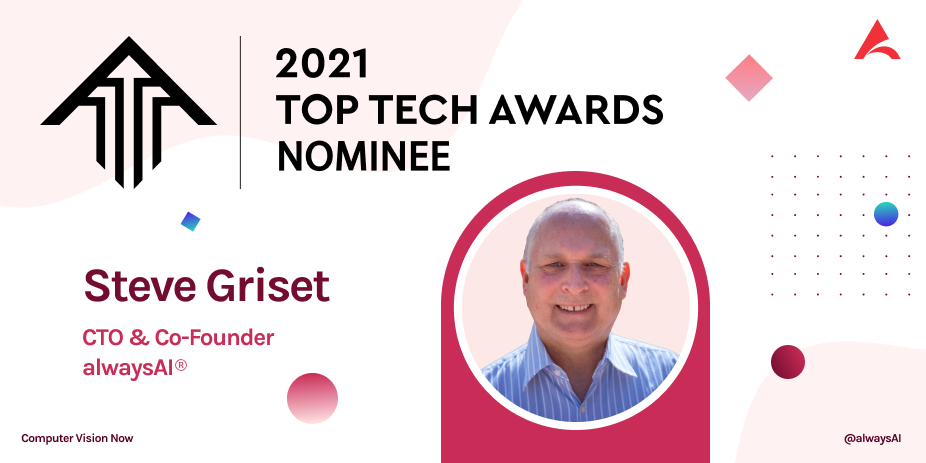 Steve Griset, alwaysAI® Co-Founder and CTO, was nominated for the San Diego 2021 Top Tech Awards. Continue reading to learn about the awards and his nomination.
alwaysAI

®

CTO, Steve Griset, Revolutionizes the Retail Industry
alwaysAI® CTO, Steve Griset, and his team of computer vision experts, have created a patented technology: Object Re-Identification. This groundbreaking technology has transformed the retail experience, providing stakeholders with sophisticated analytics on consumer behavior such as foot traffic, flow, dwell time, people counting, mask detection, and more. This enables store owners to create customized shopping experiences and streamline operations by improving product placement, managing inventory, preventing theft/loss, and monitoring in-store safety. 
Patented Technology  
alwaysAI has implemented proprietary Object Re-Identification which allows anonymous matching of an object, including people, as it navigates through a store, workplace, or factory. Once an object is detected, it can be tracked throughout the store and re-identified as it moves between camera feeds. This technology facilitates advanced analytics without using facial recognition technology - ensuring privacy of the consumer.
The 2021 Top Tech Awards in San Diego
The Top Tech Awards acknowledge outstanding information technology executives, as nominated by their peers and clientele. Nominees and honorees are determined by a panel of judges and recognized at the Top Tech Awards each year.
The Top Tech Awards first made its debut in San Diego in 2008, founded by Cox Business VP, Larry Coval. Over the years, it's grown to be one of the best-attended corporate award events in the region. This year's event was hosted virtually on September 16th from 4-5 PM PST.
Watch the 2021 Top Tech Awards on-demand.
---
About alwaysAI®
alwaysAI® provides developers and enterprises a comprehensive platform for building, deploying, and managing computer vision applications on IoT devices. We make computer vision come alive on the edge - where work and life happens. The alwaysAI platform offers a catalog of pre-trained models, a low-code model training toolkit, and a powerful set of APIs to help developers at all levels build and customize CV apps. alwaysAI® has an easy deployment process and a state-of-the-art run-time engine to accelerate computer vision apps into production quickly, securely, and affordably.
Make advanced AI easy for your organization. Register for free to get started today, or schedule a demo and talk to our computer vision experts about your business.