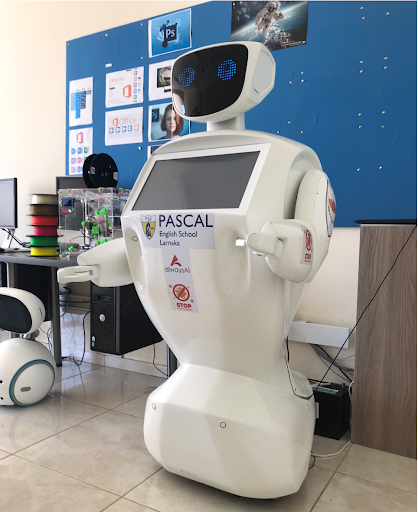 The battle against COVID-19 in Cyprus is getting help from the Pascal Space Center Innovation Lab at the Pascal English School in Larnaka. Students of the school along with their teacher Mr. Elpidoforos Anastasiou have come up with solutions to problems using STEAM (Science, Technology, Engineering, Art and Mathematics) to build a robot to assist hospitals, schools, supermarkets and other businesses in the fight against COVID-19 by integrating artificial intelligence (AI) and computer vision. 
Pascal Education is one of the largest and longest standing co-educational organizations in Cyprus. It comprises 5 secondary schools. Elpidoforos Anastasiou has been teaching Computer Science to high school students ages 17-19 for 15 years. His goal is to teach his students how to solve problems in "hands-on" ways. Less theory and more practice is his objective. Although artificial intelligence is part of the course syllabus, he and his students did not have any experience creating and implementing AI projects, as they tend to be extremely complex, and beyond the scope of high school students. 
The idea for the COVID-19 robotics project came about when the lock-down began in Cyprus. Elpidoforos' students called him expressing that they wanted to take action to help with the situation that was unfolding.
He already had a robot which had been donated to him that was broken and not functional without a computer. He wanted to create a project that wouldn't just fix the robot, but enhance it and enable it to solve problems not only for the school but for society.
He challenged his students to research the problems COVID-19 was presenting. He asked them "What needs to be solved?" and "How can we use robotics to help?." The students came up with several ideas, and together with their teacher, took on the task of turning these ideas into reality.
Since nobody had previous hands-on experience with computer vision (CV) and robotics, they had to start from the drawing board. Elpidoforos searched for ways to get started, and found tutorials online that were complex. He spent weeks trying to learn how to execute AI and  computer vision concepts such as facial detection. This is when he came across alwaysAI on Facebook and decided to try the platform. "With alwaysAI, I was able to get a prototype up and running in a day, which was refreshing after spending weeks on end trying to learn similar concepts" Elpidoforos explains, "because it was so easy to get up and running, I thought it would be the perfect platform to transfer to the students." 
This COVID-19 student robotics project was separated into sections. One student wanted to build an application to count the number of people in a room or public space. This is in conjunction with a mandated policy by the Cyprus government allowing a limited number of people in squares, plazas and other public spaces. This type of application can also be used in shops enabling them to open by abiding by social distancing mandates. In fact, Elpidoforos is installing a Raspberry Pi with a camera and alwaysAI at his parents' shop for this exact purpose. He believes that with a platform like alwaysAI and an edge device like a Raspberry Pi, computer vision can be affordable for businesses to implement. Elpidoforos' goal is to have stores all over the country implementing this type of technology to monitor social distancing.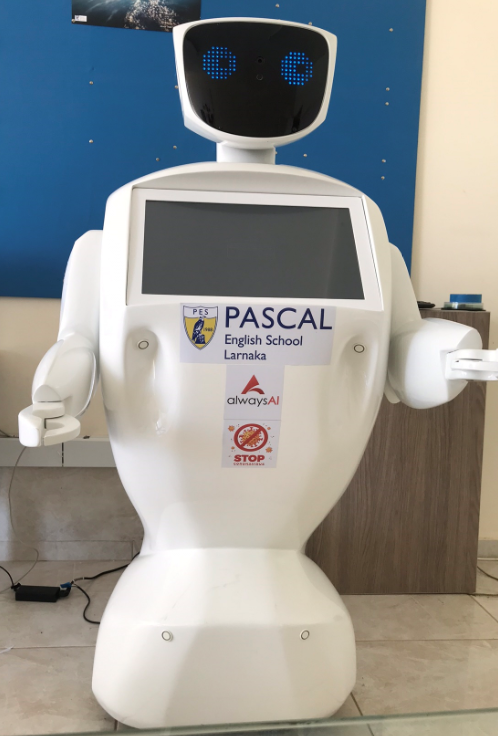 Elpidoforos had a great experience with the alwaysAI platform. He went from no previous experience with computer vision to creating and deploying his own CV applications with alwaysAI in a short period of time.
After Elpidoforos signed up for the alwaysAI platform, he reached out to the alwaysAI community on Discord, where he was able to connect with Developer Advocate, Jason Koo.
Jason spent a few hours with Elpidoforos helping him learn and understand how to get started. Elpidoforos was then able to condense that information to teach the basics to his students (remotely). With alwaysAI, Elpidoforos was able to witness his students use an edge device like a Raspberry Pi and get the basic concepts of artificial intelligence and computer vision to work. This enabled their robotics projects to come to life. 
The work that Elpidoforos is doing with his students is not only getting attention from his community but from the government and the media as well. He has been in touch with the Minister of Education for Cyprus as well as several local news stations.
His goal is to get more teachers and schools using the alwaysAI platform to help execute robotics projects that can help society. He has created a proposal for a nation-wide competition for students to come up with ideas to solve society's problems with robotics. The goal is to come up with solutions that can be applied in the real world. He believes that the alwaysAI platform is "revolutionary" and that it has "created the Arduino for computer vision".
He also believes that without the use of  alwaysAI, it would have taken months to make any progress on the robotics projects with his students. He knows several computer science teachers that are involved with the First Robotics Competition and other robotics competitions, who have said it would be impossible for a student to learn to get computer vision working on a robot.
However, with alwaysAI, not only was Elpidoforos able to learn and get started quickly with computer vision, but his students were able to as well. The ability for the students to execute their robotics projects with CV has been essential in retaining their engagement. If a project is too long from concept to implementation, they might lose interest. The ability to have students see the results of their work keeps them going. Elpidoforos believes "It is revolutionary to get students to be able to not just learn about artificial intelligence, but to actually be able to practice and apply it." 
The alwaysAI team thanks Elpidoforos for showcasing a great example of how the platform can be used to help solve some of the world's problems. In this case, it is evident just how beneficial computer vision can be in helping with prevention and monitoring of the COVID-19 pandemic. This can help maintain public health as stores and other businesses begin to open and students start to return to school. 
You can find more information about the PASCAL Space Center here. 
If you are working on a robotics project and are interested in getting started with robot vision, please sign up for the alwaysAI platform!