Watching the Road Less Traveled
productOps is a boutique software development and consulting firm located in Santa Cruz, California. They serve a broad range of clients across a number of industries, creating custom applications and answering general business challenges.
Recently, the California Park Service presented them with a particularly interesting project with highly-specialized hardware and software requirements. The service administers a number of popular hiking and biking paths but has never been able to adequately measure usage.
Usage metrics are important for gauging general park engagement and determining maintenance schedules. There are strict rules guiding proper trail usage, but without a system in place to monitor these trails in real-time, the park service had always had a difficult time catching and penalizing offenders.
With these requirements in mind, productOps was asked to build a live video monitoring system that could identify the ways in which the trails were being used, as well a help police for rule-breakers.
The Challenge
While considering the problem, the team ruled out solutions like magnetic sensors or lasers that could sense when someone interrupted the beam. These could tell that something was using the trail, but didn't offer a means to identify what it was.
The park service wanted to know how many hikers used the trails. They wanted to be able to distinguish between casual bikers and mountain bikers. Were these users alone or in groups? Who was using the trails appropriately and who wasn't?
After ruling out other options, the team determined that computer vision paired with proximity sensors was the most appropriate solution for the task at hand. They would need a robust computer vision system that could distinguish a range of objects and activities under less than ideal conditions.
The system would also need to analyze live video data on location. It wasn't practical to transmit huge video files from sensors deep in the woods, so it was necessary for accurate analysis to be carried out in real-time. That would negate the need to store or transmit video. Transmitting lightweight data files detailing positive identifications was much less resource-intensive.
To further complicate things, the team didn't have a large budget or a lot of time to get the project up and running, so they needed something that they could wrap into their prototypes quickly to begin testing.
The Solution
Will Bartee, a senior software engineer with productOps, began experimenting with computer vision systems on his own. "It blew my mind how many different things, how many dependencies there were to actually get the computer vision up and running on something like a Raspberry Pi or even on my PC. It was quite challenging to do that."
The team needed a prebuilt solution, and after some searching, they landed on alwaysAI. As Will puts it, "alwaysAI made it very easy to get up and running, get functional and do the computer vision that we wanted to do."
alwaysAI worked well with the edge system they were developing, allowing real-time identification and lightweight data transfer. The team had very specific inference requirements, needing only a limited number of objects to be identified accurately. AlwaysAI's flexibility allowed them to tweak model sets and inferencing settings to accomplish their goal.
Will was impressed. "We were able to get pretty accurate results after a good amount of turning the knobs as it were. Fiddling the different bits to get the results that we wanted."
In the end, with alwaysAI, Will created an app that was able to distinguish between hikers and bikers, horses and dogs, small and large groups, and make the IDs available for transmission in real-time.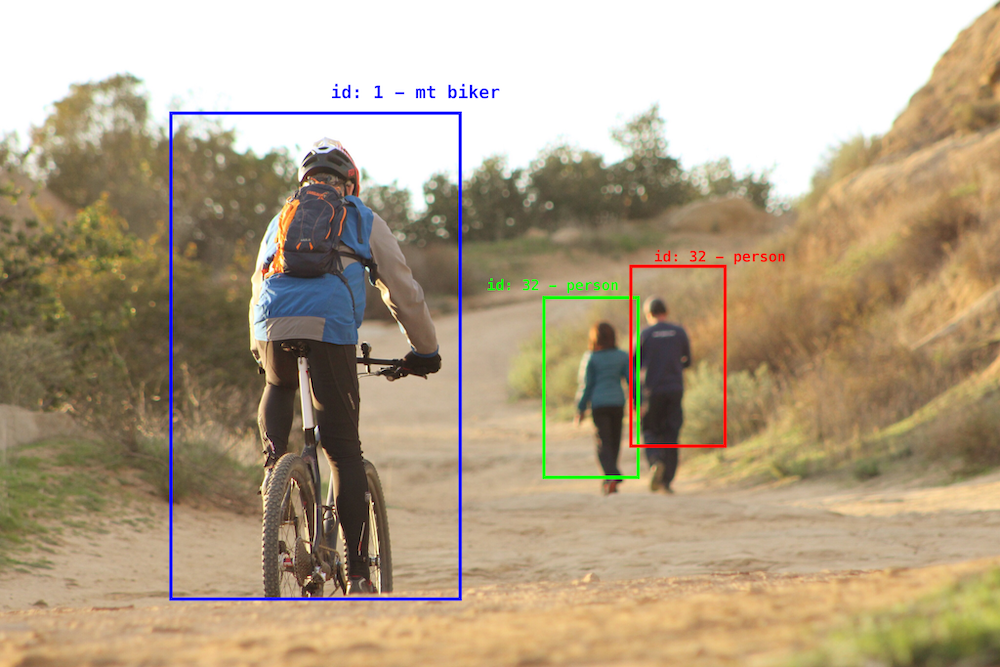 alwaysAI Made a Difficult Challenge Possible
Will and his team were pleased by the results they got from the alwaysAI platform. It allowed them to develop a functional system quickly, getting proof of concept out to their client in the window they needed.
"I would absolutely recommend alwaysAI for somebody that is trying to get into the space and just have a computer vision application or another machine learning application on an edge device up and running very quickly," said Will. "If you're trying to get started with computer vision and you want your edge device to just work right off the bat, alwaysAI is a great, great option."
Fully deployed, the system will allow the park service, as well as the local mountain biking community to get accurate measures for trail usage, which will improve maintenance procedures, leading to cost savings for the park service, and a better experience for the trails' various users.
Everyone involved in the project agreed that it wouldn't have been possible without alwaysAI. The software did all of the heavy lifting, allowing Will and his team to focus on getting the hardware working. The park service and productOps were both extremely pleased.