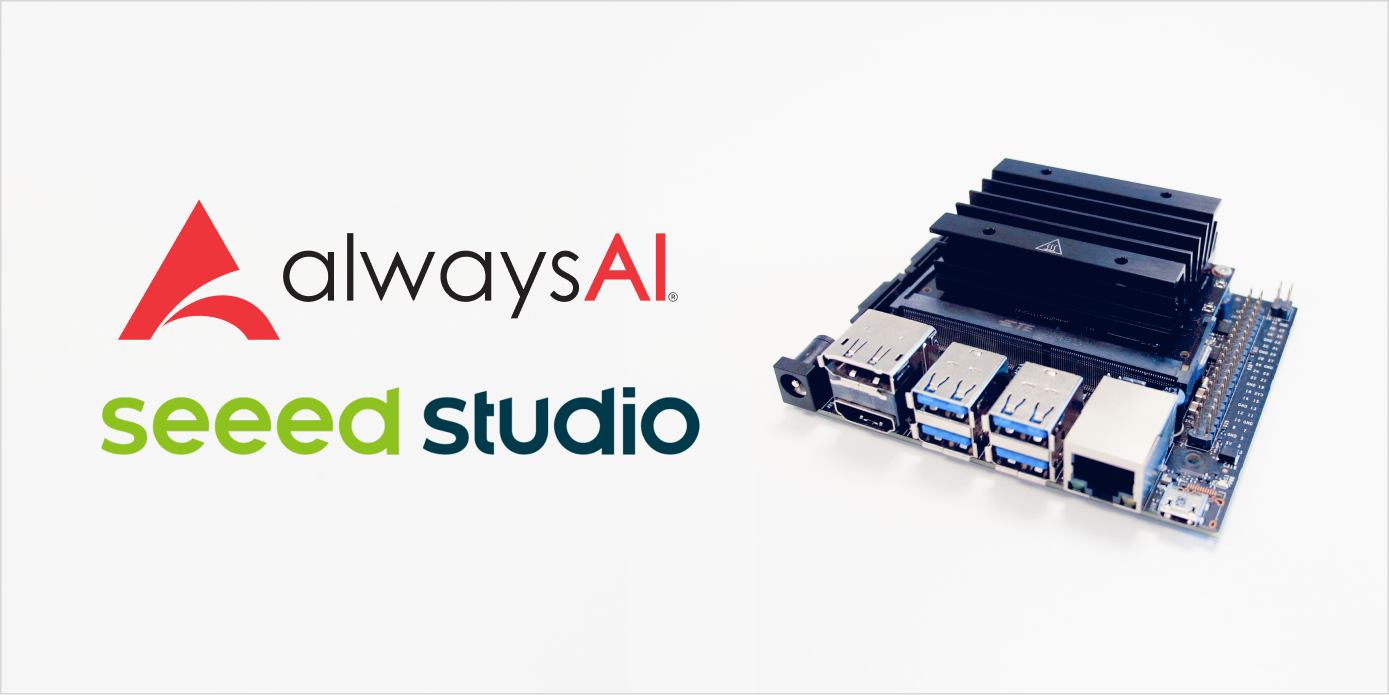 alwaysAI® and Seeed Studio have partnered to advance the development and deployment of computer vision applications on the edge. 
A Strategic Software-Hardware Partnership
The collaboration will accelerate the CV application creation process thanks to Seeed's expansive range of Jetson-powered devices and alwaysAI's edge deployment flexibility. Seed offers a wide range of NVIDIA® Jetson™ Platform devices, including NVIDIA® Jetson™ Dev Kits, Seeed-designed carrier boards and edge devices, and accessories. alwaysAI has also partnered with NVIDIA® to streamline the model deployment process on Jetson™ devices. alwaysAI's easy-to-use model catalog, APIs, and analytic capabilities perfectly align with Seeed's cutting-edge hardware. 
For Enterprises Across All Industries 
As Marty Beard, the CEO of alwaysAI states, "the whole area of IoT or edge computing is really taking off. And computer vision, in particular, is becoming a super important application that many, many verticals and enterprises across the world are exploring."
Computer vision is applicable across industries ranging from retail to transportation to industrial and manufacturing. As Marty Beard states, "This is a software - hardware combination that we think is critical for the enterprise developer and is gonna help them get going very quickly and very efficiently as they capture the magic of computer vision on the edge."
Learn more about our partnership with Seeed Studio in this press release.
About Seeed Studio
Seeed Studio strives to be the most integrated platform for creating hardware solutions for IoT, edge AI applications. The Seeed Jetson open-source platform helps researchers, developers, and enterprises deploy machine learning in the real-world. Seeed empowers everyone to achieve their digital transformation goals. 
Seeed believes that deploying AI can be faster, flexible, and scalable for everyone. Seeed aims to cover all kinds of AI scenarios at their open-source platform to accelerate industries' digital transformations. 
About alwaysAI
alwaysAI® provides developers and enterprises a comprehensive platform for building, deploying and managing computer vision applications on IoT devices. We make computer vision come alive on the edge - where work and life happen. The alwaysAI platform offers a catalog of pre-trained models, a low-code model training toolkit, and a powerful set of APIs to help developers at all levels build and customize CV apps. alwaysAI® has an easy deployment process and a state-of-the-art run-time engine to accelerate computer vision apps into production quickly, securely, and affordably.
Make advanced AI easy for your organization. Register for free to get started today, or schedule a demo to talk to our computer vision experts about your business.
Watch our Co-Founder and CEO, Marty Beard, discuss our partnership with Seeed Studio in this video.