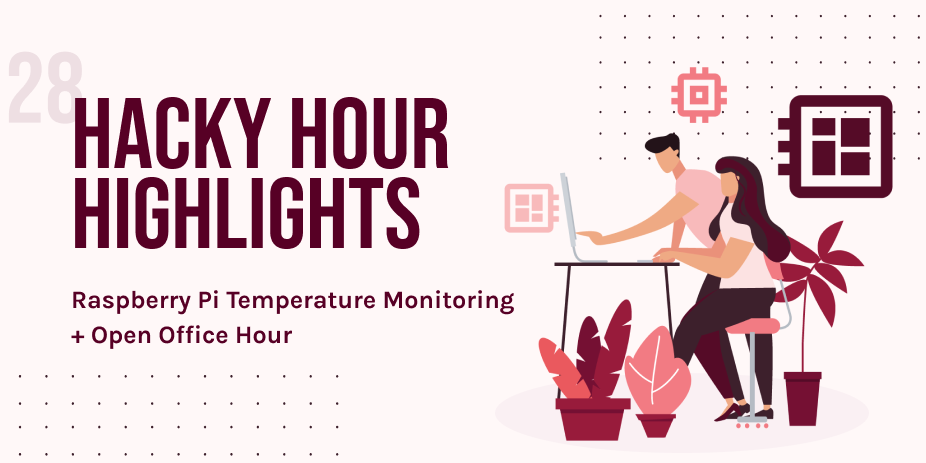 Raspberry Pi Temperature Monitoring 
Running Computer Vision applications (or AI applications in general) can put a strain on an edge device, especially when combining models. Using a heat sink in conjunction with a fan is probably sufficient to keep the device from throttling, but it would be helpful to be notified before your device becomes this hot. Being alerted to potentially unsafe temperatures enables you to stop your app before the device burns out, and to continue to monitor the temperature — giving you the option to restart the program when the device has sufficiently cooled off.

To that end, in this Hacky Hour Lila Mullany demonstrates a utility class that enables developers to track and record temperature readings, and provides a summary of the collected data. 
Click here for the GitHub repository for this application. 
Guest Questions

QUESTION: In the GitHub repo it says "To run this app, you will need an alwaysAI account". Do I need to buy the software later?
ANSWER (Komal): You can signup for alwaysAI for free. You will need a subscription account to deploy this application in production mode, but you can try out the application and deploy on the Raspberry Pi on the freemium account. To learn more, check out our pricing page here.
---
QUESTION: My app measures pupil diameter. What models should I begin with?

ANSWER (Steve): You can train a model using a dataset on the mobilenet_ssd model. And then continue to optimize as your continue to collect more data. 
---
QUESTION: I would like to try an app that uses Raspberry Pi with a camera to view and categorize the animals that move through my backyard. Would that be possible?
ANSWER (Steve):  Yes, it's possible. You can collect the sample data from your backyard and train a model on the mobilenet_ssd using the Model Training Toolkit. 
---
QUESTION: What is deploy mode?  
ANSWER (Lila):  Deploy mode is used when you want to deploy your application into production. You will not need to use the deploy mode when you are prototyping on the freemium account. 
---
QUESTION: Are all your projects using Raspberry Pi?
ANSWER (Lila):  Not all of our projects are using the Raspberry Pi. This specific application monitors temperatures for the Raspberry Pi.
Raspberry Pi Temperature Monitoring + Open Office Hour
Join us every Thursday at 10:30 AM PST for our weekly Hacky Hour! Whether you are new to the community or an experienced user of alwaysAI, you are welcome to join, ask questions, and provide the community with information about what you're working on. Register here.