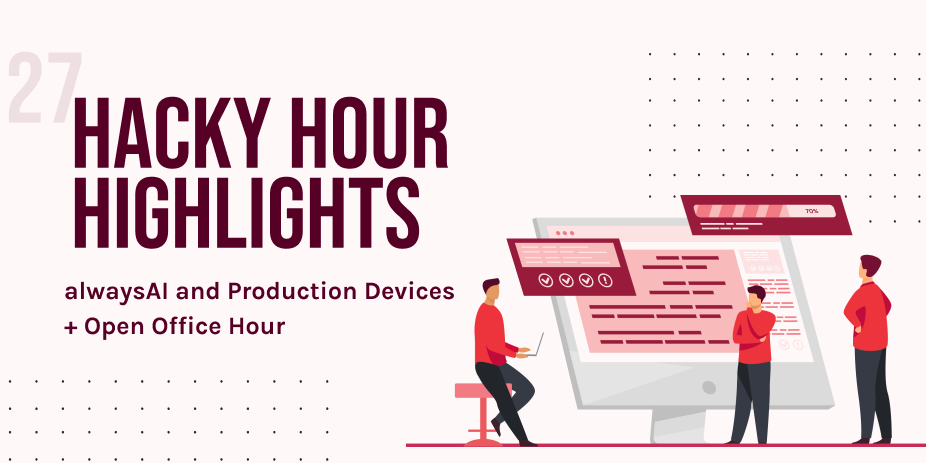 This week at Hacky Hour, alwaysAI's CTO, Steve Griset, and Developer Advocate and Software Engineer, Lila Mullany highlight how to use Production Devices with alwaysAI. Additionally, Steve Griset highlighted some of the new YOLO models available on the model catalog. 
What is a Production Device? 
With alwaysAI, developers can deploy Computer Vision applications to field production on a wide variety of edge devices. In this Hacky Hour, we discussed how Production Mode enables CV applications to have added resiliency: they can auto-start and do not require manual intervention or persistent connectivity. Production Mode is available to Basic and Premium subscribers of alwaysAI. To learn more about our pricing, click here. 
Yolo Models
We have now added YOLO v3 model, and YOLO v4 tiny model that can be executed on the CPU, or Jetson devices. These models are on the Spatial Pyramid Pool architecture.  Check out the YOLO models on our model catalog.
Guest Questions

QUESTION: Is that 'pip3 install docker-compose' Pi-specific, or needed on a Jetson Nano as well?
ANSWER (Lila): Yes, that is needed for all edge devices. 
---
QUESTION: Is aai app install gone ?
ANSWER (Lila): No, actually. We still need this command to install the app. But we have only made some changes to the aai app deploy command. 
---
QUESTION: Is it possible to run two models on the Jetson? 
ANSWER (Steve):  Yes, we can do the mobilenet_ssd models live. Watch the Hacky Hour to see how.  
---
QUESTION: What the resolution for YOLO v4? 
ANSWER (Steve):  It is currently 416 x 416.  
---
QUESTION: Will the Xavier and CSI camera work with two IP streams ?
ANSWER (Steve):  Yes definitely. You can add in the number of video streams you want to use. 
---
QUESTION: I can see 0.02 to 0.03 seconds on the XavierNX, any idea what the Nano does typically?
ANSWER (Steve):  It depends on the model. Some models will perform the same on the nano, others will perform a little slower on the nano. 
See below for the full video of the Hacky Hour, or click here.
Open Office Hour
Join us every Thursday at 10:30 AM PST for our weekly Hacky Hour! Whether you are new to the community or an experienced user of alwaysAI, you are welcome to join, ask questions, and provide the community with information about what you're working on. Register here.