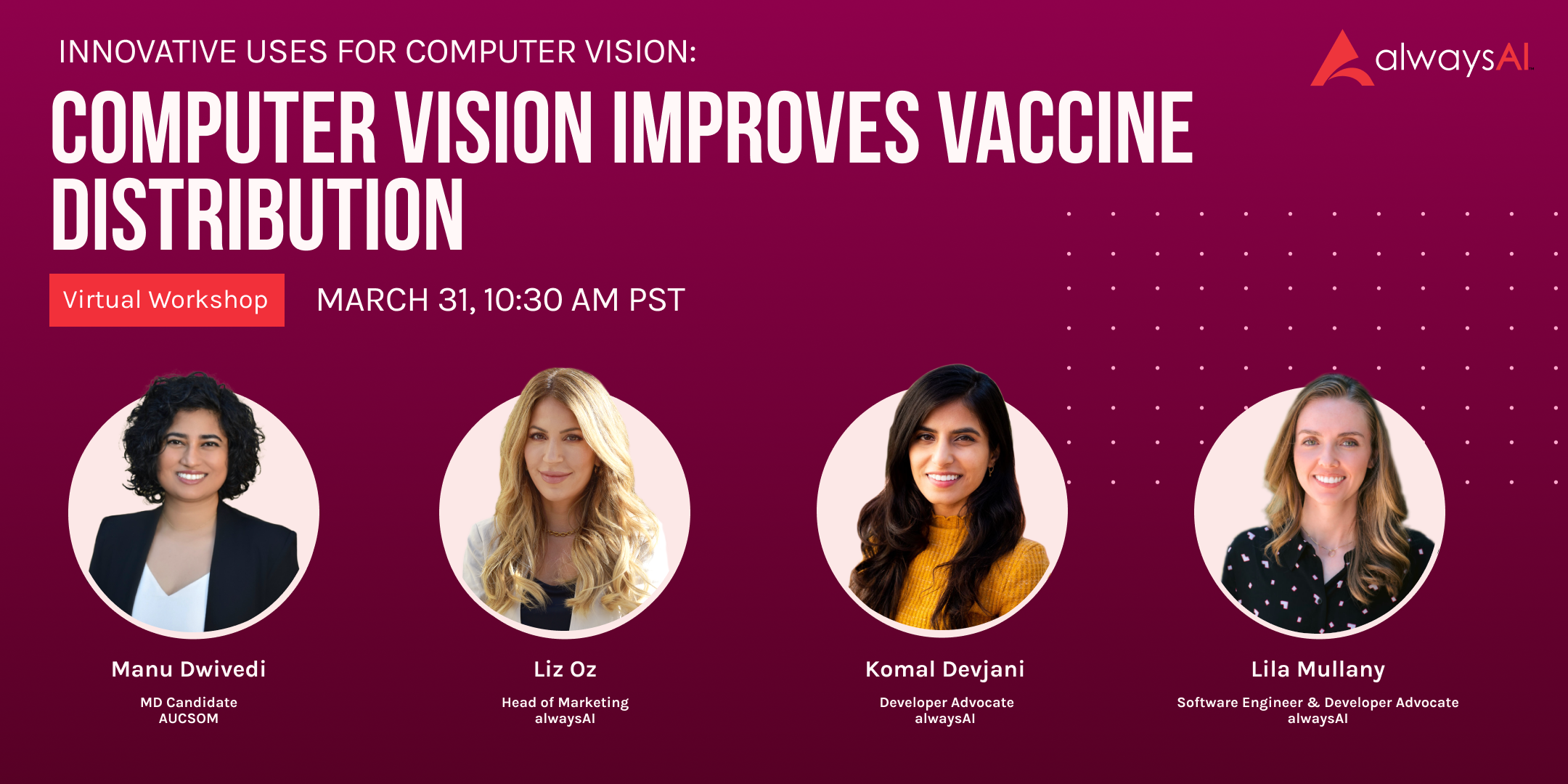 The Coronavirus pandemic has profoundly terrorized humanity on a global scale. From travel bans, to mask mandates, to state lockdowns, and businesses being forced to close - leading to record-high unemployment rates across many countries; this virus has posed a massive risk to the global economy. Fortunately, the greatest minds came together to develop multiple vaccines for this virus in record time. The first doses of the vaccine were delivered in December 2020, within a year of the first case of COVID-19 being identified. 
As a computer vision-focused company, we at alwaysAI are always exploring ways technology can create solutions for various issues people face in work and life. We identified how computer vision can support the thousands of health care workers who are actively working to vaccinate the mass population. Although the vaccine is available now, and many have been vaccinated, there are critical roadblocks that can slow down the end-to-end process of getting vaccinated.
To identify some of these roadblocks and ideate on solutions, we worked with Manu Dwivedi, a Med Student at AUCSOM, and a vaccine distribution volunteer. In our conversation, Manu identified that there are three key areas where computer vision can be used to optimize the vaccine distribution process:
Wait Time - when individuals are waiting to receive their vaccine. Computer vision can be leveraged to identify how many individuals are waiting, and calculate then report wait times. It can also be leveraged to ensure that patients are compliant with social distancing and mask mandates as they remain in line.
Analytics - Computer vision can help health care workers determine precisely how many people have been vaccinated; how many vials of the vaccine has been used; and how many additional patients can be vaccinated based on the supplies available.
Post -Vaccination monitoring - Once a patient is vaccinated, he or she is asked to wait for at least 15 minutes to ensure they don't experience any side effects as a result of the vaccine. In the event there is a side-effect or negative reaction to the vaccine, the patient raises their hand to notify the staff.
Lila Mullany, a Software Engineer at alwaysAI, created three applications for the processes identified above and integrated these into a dashboard that healthcare professionals can leverage.  To explore the complete application demonstration watch the webinar here. 
Learn how to create and train an application for your own use case using our Model Training Toolkit, we can't wait to see what you build!