The process of developing computer vision applications has been greatly simplified by alwaysAI, which includes native support for Windows, Mac and Linux, and enables developers to get started prototyping applications right away with very little setup required.
Using the convenient starter apps provided by alwaysAI allows developers to build computer vision applications such as object detection or pose estimation on a local machine (which can be easily deployed on any edge device using the alwaysAI CLI) so that less time is spent sourcing and provisioning devices upfront, and more time is spent creating applications and making a real impact as quickly as possible. 
If you don't have an alwaysAI account yet, you can sign-up here. 
Here's how to get started prototyping on Windows Native:
Watch the video for an overview and scroll down to see each step.
1. From the alwaysAI homepage, navigate to the 'Docs' link next to the 'Dashboard' button on the upper right.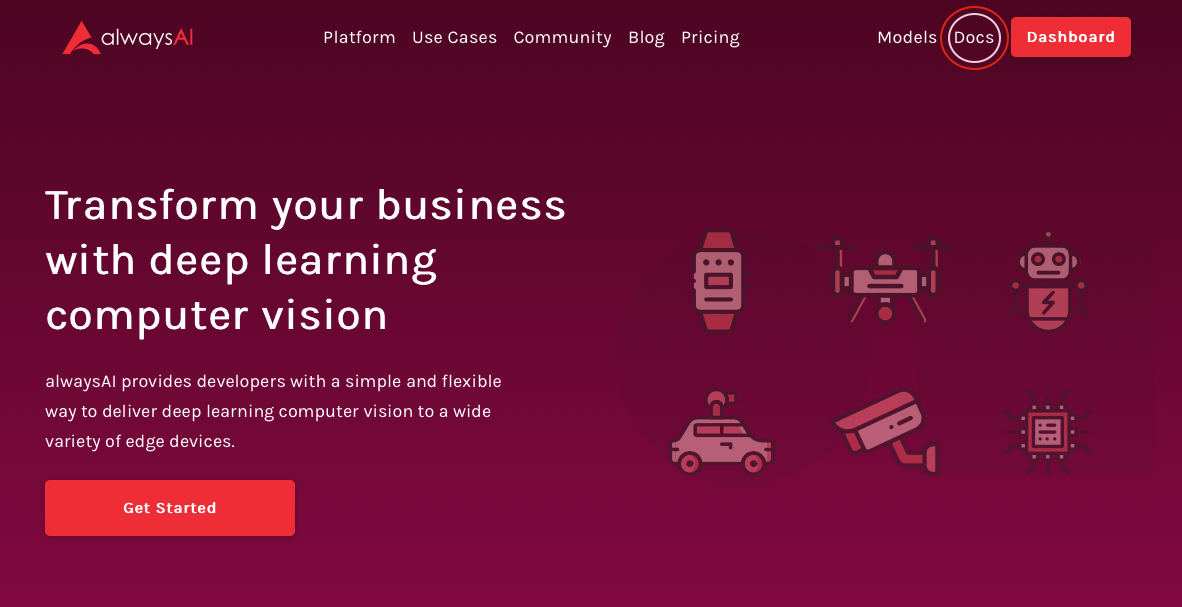 2. Click on Get Started

, either at the top of the menu on the left-hand side, or on the upper-left tile on the landing page.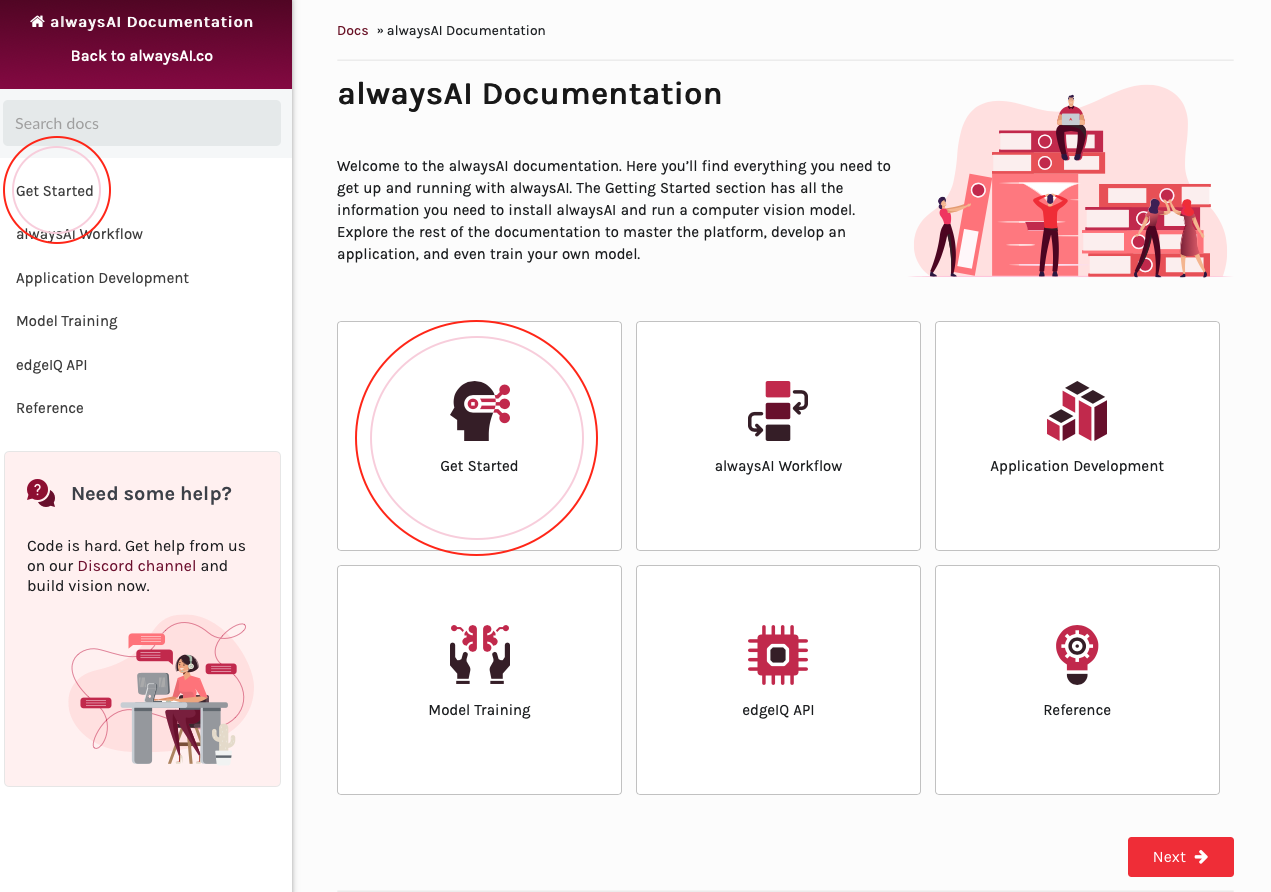 From there, click Development Computer Setup

and select

Windows

.
3. Click the

Download for Windows

button.
Then, run the Windows installer. After the installer finishes, open up the alwaysAI desktop application to finish the installation process. Once the installer finishes, you can navigate to our docs for instructions on getting the starter applications. For the purposes of this tutorial, we'll assume you download the starter applications using the CLI.
4. Download the starter applications.
Open a terminal and enter the command as shown below:

Now you can choose a starter app and install it. In this example, we're going to use the Face Counter app. Navigate into the face_counter directory.
5. Configure the project
Navigate to the dashboard and click 'create new project'. Then select 'start from scratch' and type in the project name 'face_counter'.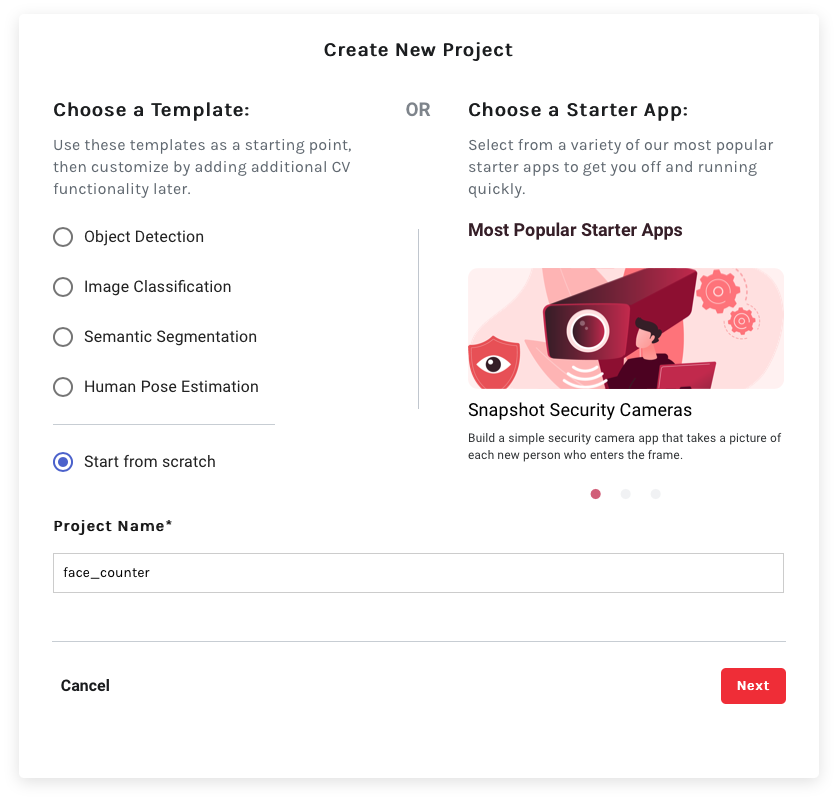 Then click 'next' and on the subsequent page click 'create new project' (skipping adding a model for now). Then navigate to the face_counter directory in your terminal and enter into the terminal: aai app configure . Then select the 'face_counter' project and choose 'local computer' as the device.
6. Install the app
Enter the following in the Terminal:  aai app install
7. Next, enter the start command
Enter the following in the Terminal:  aai app start
8. Copy the streamer URL from the terminal and enter it into your preferred browser.

9. View your application.
And there you have it — you can see your starter application running in real time.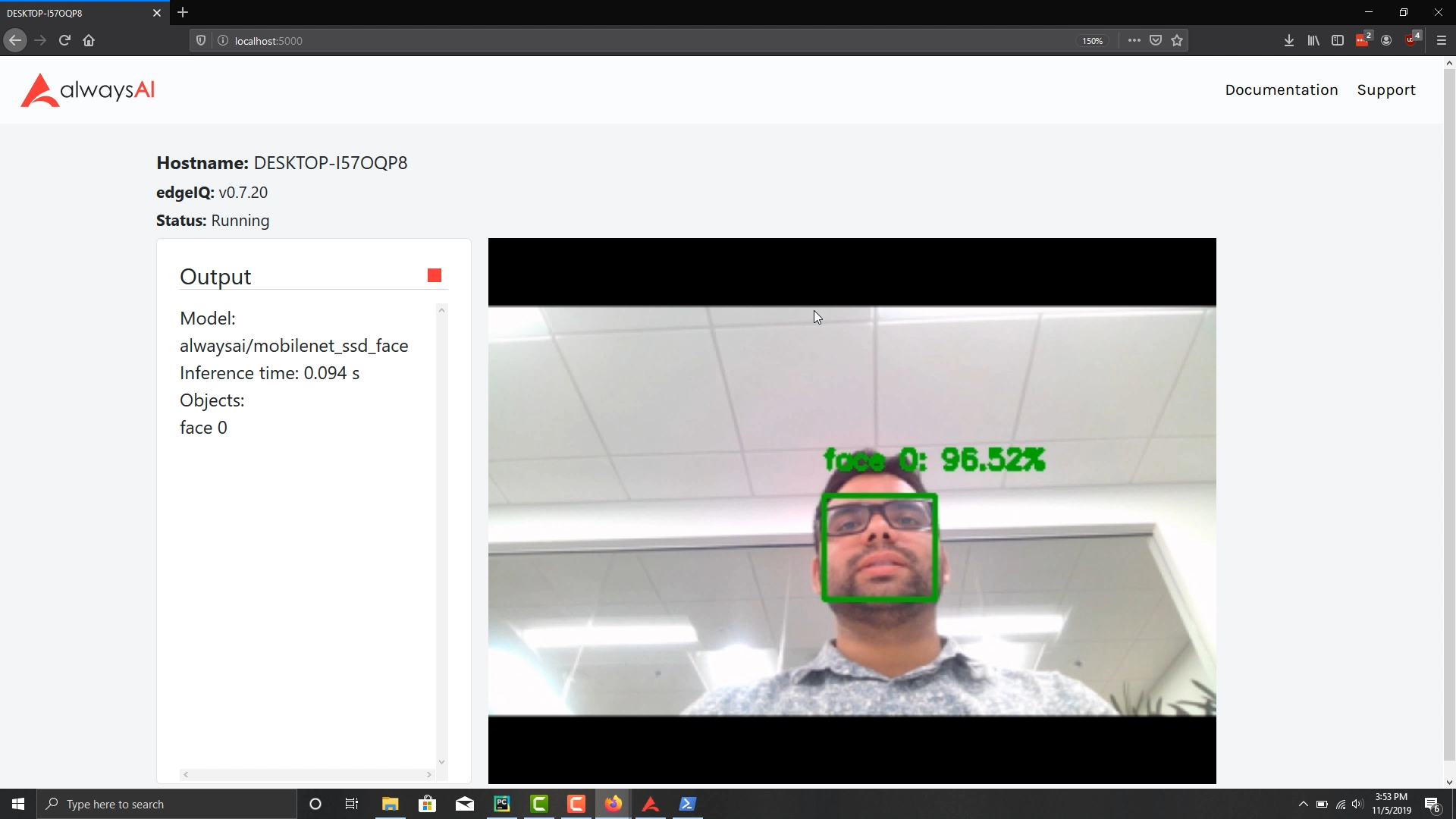 For additional setup information and help, return to the Development Computer Setup page in the alwaysAI docs.