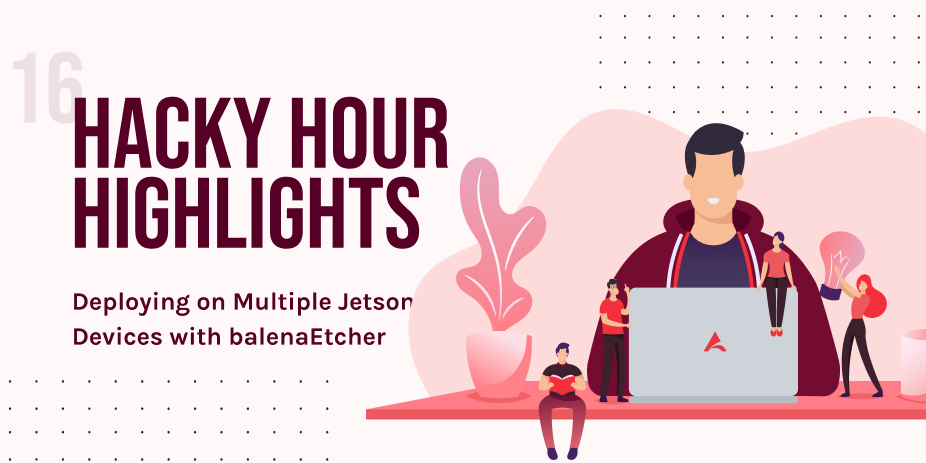 What is Balena?
Balena is a complete set of tools for building, deploying, and managing fleets of connected devices. These tools provide infrastructure for fleet owners so they can focus on developing their applications and growing their fleets with as little friction as possible. Balena is a container engine built for embedded and IoT use cases and compatible with Docker containers. Balena's fleet management software can help developers deploy computer vision applications on multiple edge devices at once. 
For this week's Hacky Hour, we were joined by a special guest, David Tischler, Developer Advocate at Balena.
Hacky Hour
This hacky hour is preceded by an earlier hacky hour hosted by David, where he demonstrated how to deploy computer vision on multiple Raspberry Pi's, click here to watch. Due to multiple requests by developers in our community, David returned to Hacky Hour this week to highlight how developers can deploy computer vision applications on multiple Jetson devices.
To set up for the demonstration, David created a project on Balena and added his NVIDIA Jetson Nano as a device on the project. To add his second device, he invited Lila from the alwaysAI team to register and add her device to the same project. He then downloaded alwaysAI's starter apps and saved the Object detection starter app. After this step, David added a Balena wrapper to the application and uploaded the app onto Balena. Finally, he deployed the application to his Jetson, which was sitting on his desk in Pheonix. And to Lila's Jetson (in San Diego). 
Balena's fleet management functionality can be used to optimize computer vision applications for existing applications deployed out in the field, and for new applications that require deployment to multiple edge devices. 
Guest Questions
QUESTION: Is it possible to deploy to different types of endpoints (Raspberry Pi and Jetson Nano) using Balena?
ANSWER (David): Yes, you can add all types of devices to your project, as long as the application can support
---
QUESTION: Does Balena work with Khades edge?
ANSWER (David): This is a particular board type, and we do not yet support this on Balena. However, because Balena is open source, users can port to it. Here's a GitHub repo to leverage Balena for rocket chips.
---
QUESTION: Can you flash the card with Ruffus?
ANSWER (David): Yes, you can use Balena or Ruffus.
---
See below for the full video of last week's Hacky Hour: 
Join us every Thursday at 2 PM PST for weekly Hacky Hour! Whether you are new to the community or an experienced user of alwaysAI, you are welcome to join, ask questions, and provide the community with information about what you're working on. Register here.