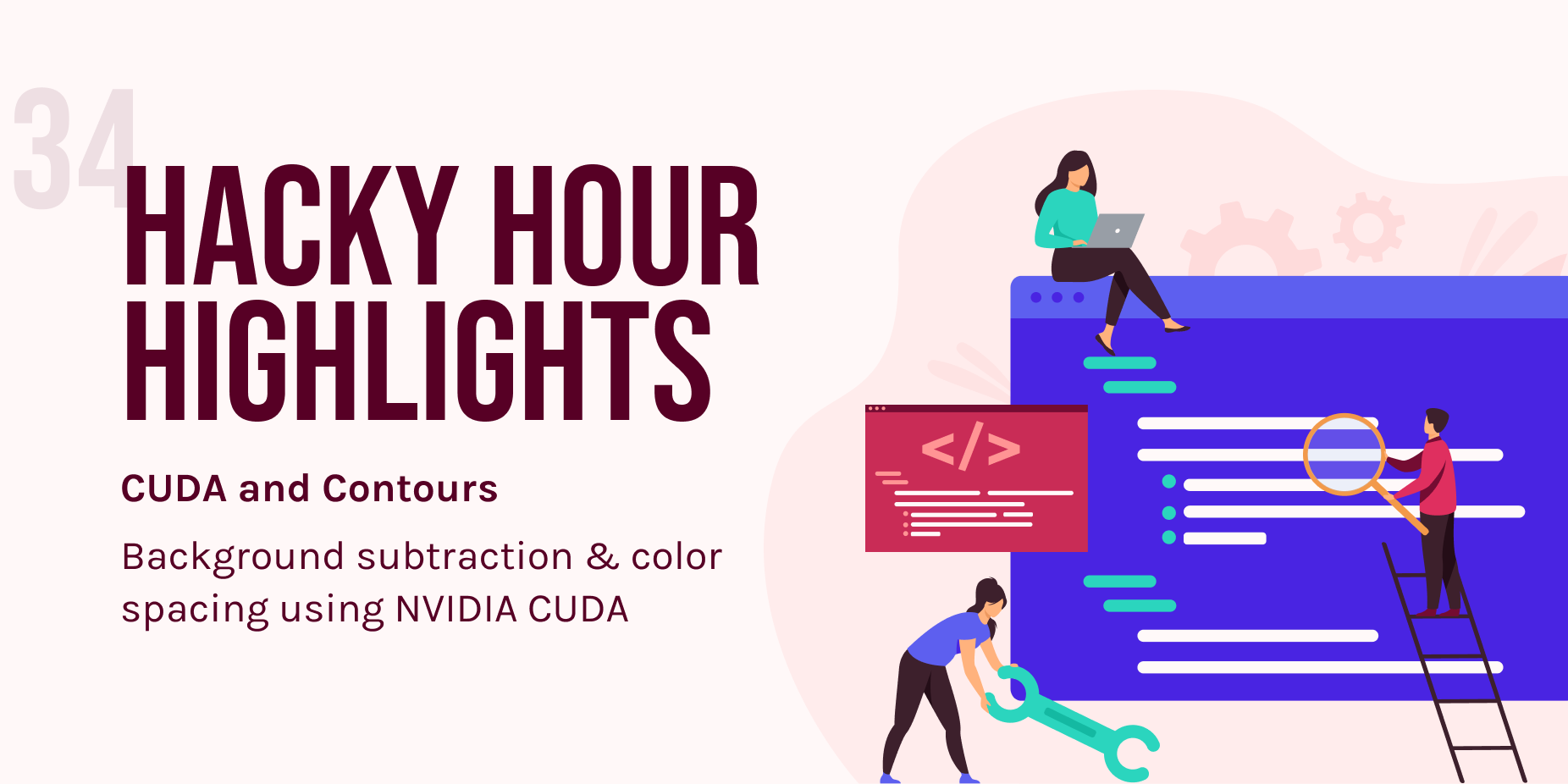 Hacky Hour Highlights: CUDA and Contours
alwaysAI hosts a regular, hands-on training session for our developer community called Hacky Hour. Hacky Hours are a great way to kick-start your computer vision journey with introductory content, code demos, and engaging exercises. We are here to ensure the success of our developer community. In these sessions, our community can ask us questions about setting up an edge device, building a CV application, or general inquiries related to computer vision and alwaysAI!
 In this Hacky Hour, we introduced NVIDIA CUDA, contours, background subtraction, and color spacing. Follow along as alwaysAI CTO, Steve Griset, demos how to accelerate your computer vision applications with CUDA. Follow along with the demonstration and use this tutorial to learn how to implement background subtraction and color spacing in your computer vision applications.
Access sample code from the demonstration in our GitHub repository.
alwaysAI provides developers and enterprises a comprehensive platform for building, deploying, and managing computer vision applications on IoT devices. Make advanced AI easy for your organization - schedule a demo, and talk to our computer vision experts about your business. If you haven't already registered in alwaysAI. Please do so! It's super easy to sign up, just follow the link and get building and coding quickly.
---
Guest Questions
QUESTION: Why are there only contours on the people?
ANSWER (Eric VanBuhler): The application this was captured from uses background subtraction to identify moving things, such as people in the video.
---
QUESTION: What are the parameters for the background model?
ANSWER (Eric VanBuhler): Here is an overview from learnopencv. In the app Steve is demonstrating, he used MOG2 for background subtraction and then used blurring, dilation, and eroding to make the masked blobs more clear.
If you haven't already, join us on our Discord channel to follow up on any questions you have about today's Hacky Hour!
See below for the full video of this Hacky Hour, or click the provided link.
Join us for upcoming Hacky Hours! Whether you are new to the community or an experienced user of alwaysAI, you are welcome to join, ask questions, and provide the community with information about what you're working on.