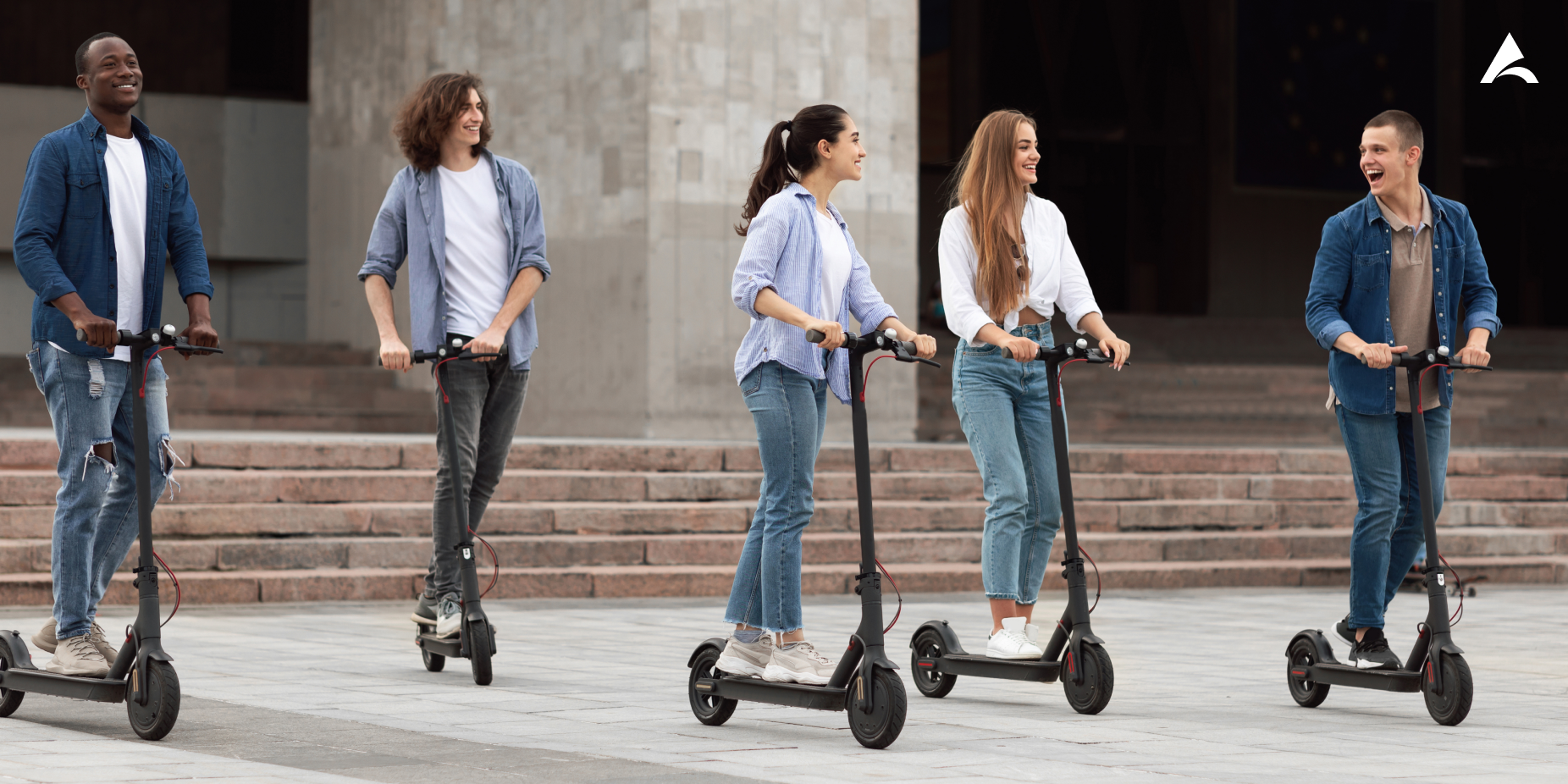 Follow along and learn why computer vision AI is being widely adopted by stakeholders in micromobility.
The Future of Micromobility: The Macro Effects of Computer Vision Adoption
Micromobility is going through a time of change and revolution empowered by computer vision (CV) and deep learning AI technologies. Thanks to CV, manufacturers now have the tools to considerably improve their operations - by accessing rider experience, adding better safety considerations, and even greatly improving fleet management efforts. CV is the technological advantage that can help micromobility manufacturers address the different issues the market has thrown at them, especially when it comes to various regulatory threats or safety problems that often translate into less revenue.
What Is the Future of Micromobility? 
McKinsey found that micromobility will become the preferred method of transportation by 2023 for several reasons:
Higher hygiene awareness
Less environmental impact
Cities actively investing in better bicycle infrastructure 
Private car

disincentivizing

, etc.
In the US alone, the micromobility market is expected to reach $200B –$300B by 2030 according to McKinsey.
How Does Micromobility Fit into the Idea of Smart Cities and Smart Transportation?
Smart cities and smart transportation aim to provide citizens with better services and experiences. 
To achieve this, initiatives must be designed based on accurate data about what citizens want and need to have a better experience. With computer vision, micromobility manufacturers can have an easier time blending in with the larger efforts of creating smart cities and smart transportation.
Safety is a big buzzword in this sense.
Smart cities and smart transportation
want to increase public safety, so it can be assumed micromobility manufacturers must place a bigger concern on safety if they want a bigger adoption of their products. AI micromobility accommodates this tenfold, as the technology can effectively "perceive" its surroundings through sensors and cameras, and utilize this data to make
real-time
decisions. With the opportunity to gain better, real-time analytics and improve fleet management, it's not hard to see how micromobility computer vision solutions will find their place in a smart city landscape.
What Are the Biggest Challenges Facing the Micromobility Industry?
The road to widespread adoption is long, and several challenges stand in the way. The first concerns profits: manufacturers need to achieve a sustained level of profitability to continuously optimize operations to fit the expectations of a smart city landscape.
There's also the matter of regulation and trust when it comes to consumers. Those who are not very familiar with improvements being done can remain wary of utilizing scooters or e-bikes, and this lack of understanding can translate into improper laws and regulations being adopted, hindering progress even further.
From a utility perspective, rider safety remains one of the biggest challenges manufacturers have to address. If the e-scooters, e-bikes, or e-mopeds are not perceived as safe, consumers will not flock to them. Lastly, manufacturers need to consider the issues of damage and theft, two big problems that hurt their operations and threaten to lower their revenue.
What Are 5 Ways CV Can Impact Riders and Technology Producers Alike? 
Computer vision solutions like those offered by alwaysAI directly address the challenges micromobility manufacturers face. The benefits of our solutions include:
1. Better rider and pedestrian safety
Our CV models for object and person detection provide real-time analytics to ensure riders have a safer experience. They can monitor the road for dangers lying ahead, predict interactions with other vehicles, prevent collisions with pedestrians, and more.
To that end, computer vision models can also detect when a rider is positioned on a sidewalk instead of a street or designated lane. In this case, the technology is capable of interfacing with the equipment to either shut down the vehicle safely or penalize the rider in another way.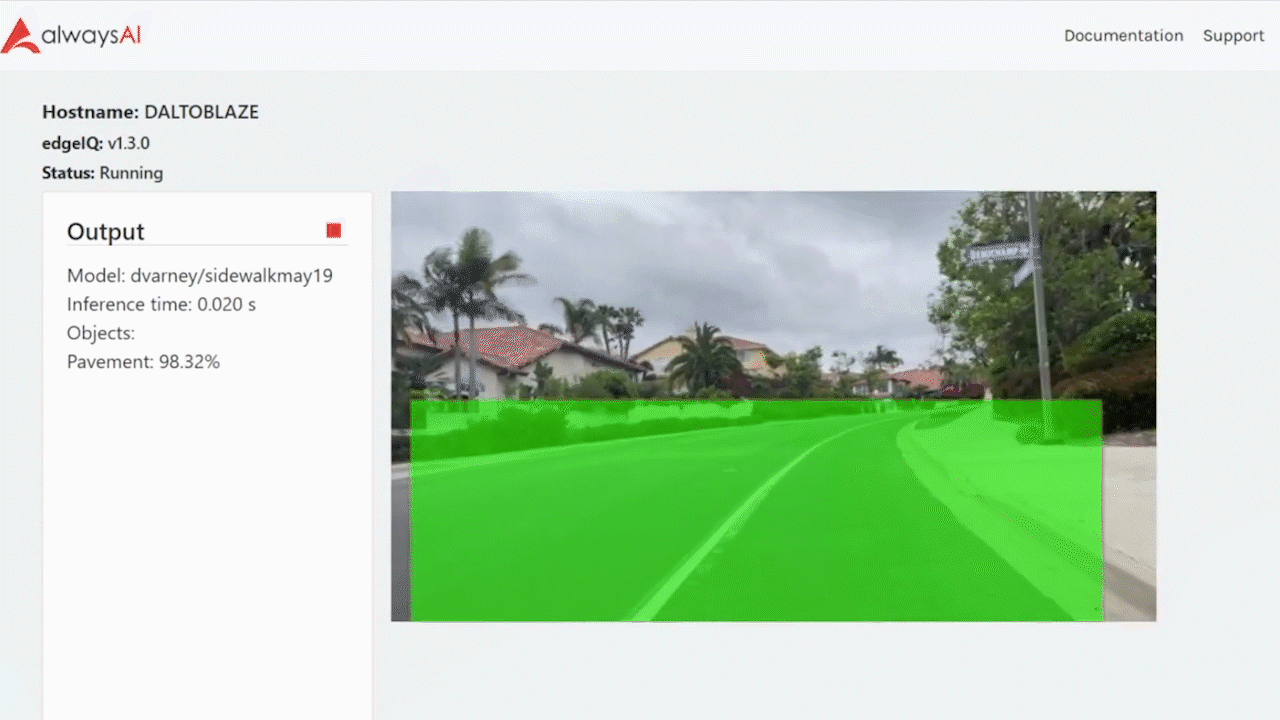 2. Liability control
Speaking of sustainable profitability, our CV models can provide better information to manufacturers regarding how people use their equipment. Through computer vision, you can get real-time insights on:
Device malfunctions
Negligence or aggression from riders
Pedestrian detection
3. Fleet management optimization
Keeping track of every single item in your fleet is an exhausting process, but computer vision makes the process more efficient. Manufacturers can shut off access in dangerous areas where there is a higher chance of incidents, detect the best locations to park, and even monitor the weather.
4. Better equipment longevity
An analysis of Bird's entry into Louisville Kentucky found the average lifespan of a Bird scooter to be just 28 days. Computer vision can extend the lifespan of your micromobility transport through better health monitoring.
5. Improved rider trust
Computer vision makes micromobility better, safer, and more accessible, which can directly help manufacturers convince more consumers to come their way.
How Can You Start Leveraging CV in Micromobility?
alwaysAI can help you streamline your CV project with creative solutions designed to make your business get the full benefits of this revolutionary technology.
Best-in-class support 
You don't have to have a team of data scientists and top-flight machine learning developers on board to truly leverage CV. alwaysAI's team of world-class machine learning experts is here to support your deployments, model development, and application-specific needs to ensure your project meets multiple business objectives.
Next-level edge-computing 
Choose a pre-trained computer vision model from the alwaysAI catalog that fits your goals, or upload your own model; then train it locally or in the cloud using our model training features. Finally, customize your app with alwaysAI's powerful Python APIs. 
Simple, scalable deployment 
Deploy your application easily and quickly onto your existing edge infrastructure on a wide variety of devices. (ARM-32,  ARM-64, or X86). 
Completely custom CV solutions 

 
Design, train and improve applications tailored to your business needs. Expand the scope of your applications with custom analytics solutions for use with 3rd party BI tools or internal systems.
Start the process by creating a free account at alwaysAI.co, or schedule a demo to speak to our computer vision experts.
WATCH: The Business of Computer Vision: Transportation
---
About alwaysAI
alwaysAI provides developers and enterprises a comprehensive platform for building, deploying and managing computer vision applications on IoT devices. We make computer vision come alive on the edge - where work and life happen. The alwaysAI platform offers a catalog of pre-trained models, a low-code model training toolkit, and a powerful set of APIs to help developers at all levels build and customize CV apps. alwaysAI has an easy deployment process and a state-of-the-art run-time engine to accelerate computer vision apps into production quickly, securely, and affordably.
If you haven't already registered in alwaysAI please do so! It's super easy to sign up just follow the link and get building and coding quickly.