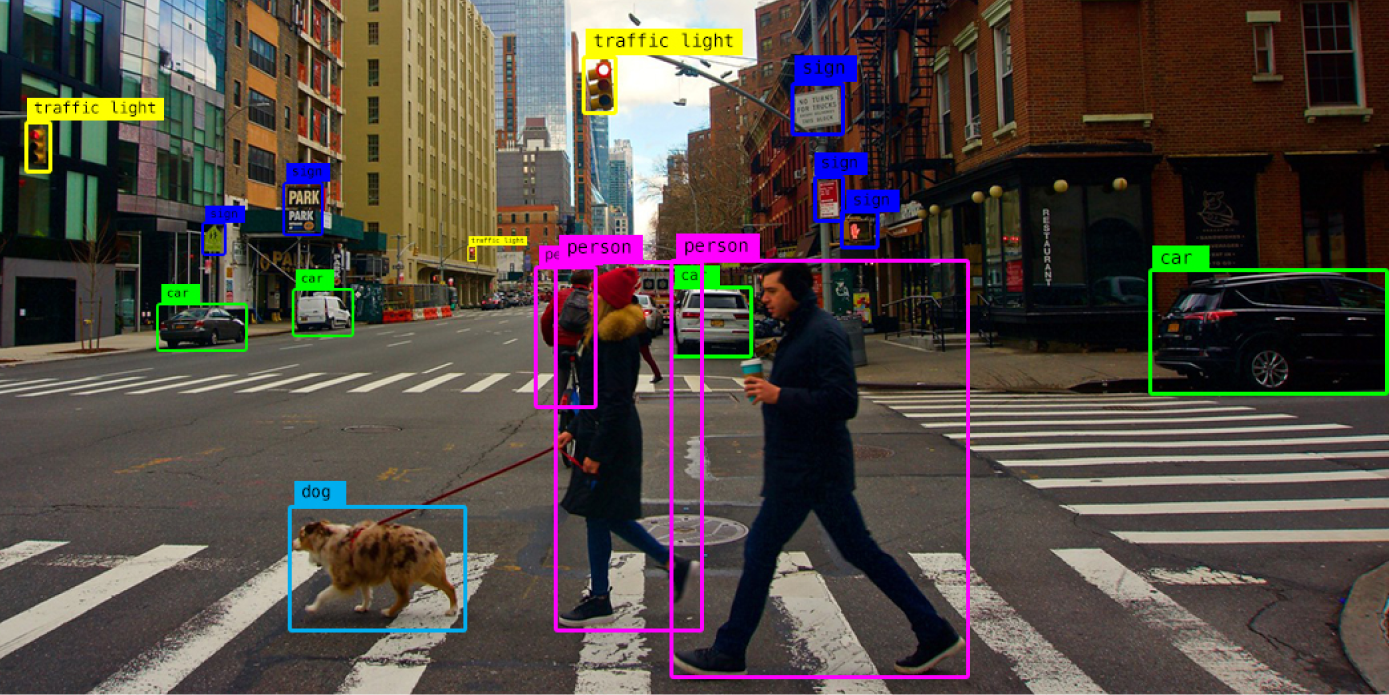 Imagine how the world would change if we could easily extend the functions of our visual cortex to machines. Computer Vision (CV) has provided us with immense opportunities to build systems and machines that can change the world. We took our CV platform, alwaysAI, to hackathons at top universities in California: University of San Diego, University of Southern California, and Stanford University. With less than 48 hours to complete their projects, students delivered phenomenal projects using alwaysAI's computer vision platform to solve problems we have faced for decades. Here are some of the top projects highlighting what we believe to be the most interesting use cases:
Support for the Visually Impaired 
Several projects leveraged computer vision to aid the visually impaired. At UCSD H.A.R.D. Hack, a group of students built aids for the visually impaired by providing tactile feedback about their surroundings through a glove.
Another group built a project called Sonic Vision, a hat that recognizes their surroundings for them, and buzzes when they are about to be in contact with a wall or another object.
At HackSC, students built a headset called Third Eye that provides the visually impaired with auditory cues about their environment.
Security
One of the common use cases for computer vision and alwaysAI is security. Students participating in HackSC built a Baby Yoda Guardian to enable campus security at USC. The Guardian of USC identifies any gun threats or verbal abuse on campus and immediately reports it to authorities.
Along the same thread, AlwaysAiSecurity used computer vision to identify where valuable merchandise is at all times so individuals of a given socioeconomic or racial background are not unfairly targeted by store security.
Fitness Aids
The health and fitness industry boasts a $32 billion market share in the North American Market. It is no surprise that Hackers at Stanford and USC built workout aids using Pose Estimation to aid people in achieving the correct form while performing their workouts. For specific project details see WorkoutBud from Stanford Tree Hacks and YogaBear from HackSC.

Waste Management
By 2024, we are expecting the global market size of waste sorting robots to reach $12.26 Billion! Considering the abilities of computer vision, there is no doubt that this technology will make a sizable impact on this industry.
At UCSD H.A.R.D. Hack, students built a 3D printed Trashbot that travels around its surroundings and identifies recyclable trash in the area such as bottles or cans using the power of computer vision.
A similar project called Garbage-Be-Gone was created at USC. This project uses computer vision to automatically sort recycling waste from landfills.
Health
Students at all of the hackathons used CV for health-related projects. Some of the notable projects include Soteria from Stanford Tree Hacks, a platform that provides sensitive health information about refugees to their caregivers while using computer vision to anonymize patients by blurring their faces in video records.
Another project at UCSD, SecureMed, dispenses patient prescriptions at home or in the pharmacy by simply identifying the prescription owner through facial recognition.
Along the same thread, a group of innovative students at UCSD H.A.R.D. Hack discovered that CV features through alwaysAI can be used to support those suffering from Alzheimer's. The students built a project called Slap Notes which could remind Alzheimer's patients when they forgot something like turning off the stove or closing the refrigerator. They also created a wearable that reminds Alzheimer's patients of some of their favorite memories such as the last time they visited the park with their loved ones.
Agriculture
At HackSC, a group of students created Automated Agriculture. This platform uses computer vision to help farmers efficiently analyze the quality of produce.
It is evident that the alwaysAI platform has made computer vision extremely accessible! We are excited to bring our own computer vision workshops to professionals solving similar problems in their respective industries and to see what the future holds.