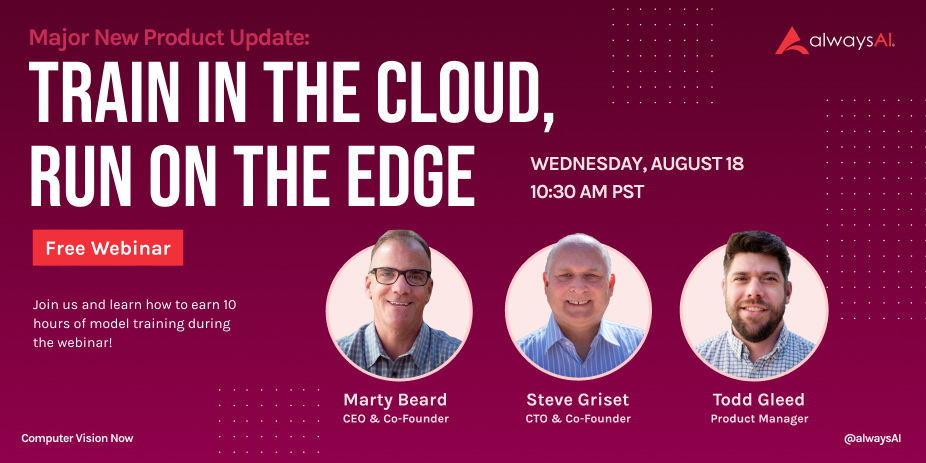 Platform customers can now use our cloud model training server to train a model and deploy it onto edge devices with the alwaysAI platform!
In this webinar, alwaysAI's Co-Founder and CEO, Marty Beard, Co-Founder and CTO, Steve Griset, and Product Manager, Todd Gleed, covered how to easily train a computer vision model in the cloud. In addition, we answered your questions about cloud-based model training. This webinar is ideal for python developers and others who are interested in training AI models for edge deployment. It's also a great session for anyone interested in computer vision as part of their enterprise's digital transformation.
alwaysAI makes training your computer vision model easier than ever with:
Powerful GPU Instances

Cloud Dataset Storage

No Code Training

Review Past Training Sessions

Platform Integration

Version Control
Guest Questions

QUESTION: What types of AI models can we train on the cloud today?
ANSWER (Todd): We support 3 model architectures: YOLOv3, MobileNetSSD, and RCNN. We will be adding YOLOv4, and Facial Recognition. Choose a pre-trained computer vision model from the alwaysAI Model Catalog that fits your goals, or upload your own.
---
QUESTION: Can I put my own pre-trained model into it for inferencing?
ANSWER (alwaysAI): Yes, we support 7+ of the most popular model frameworks which you can upload in the alwaysAI dashboard to deploy onto your devices.
---
QUESTION: Which edge platforms does alwaysAI support?
ANSWER (alwaysAI): We support a wide variety of edge devices, like the NVIDIA Jetson (Nano, Xavier, etc), Raspberry Pi, OAK-D, Oak-1, OpenNCC, and more!
---
QUESTION: What is Fleet Management?
ANSWER (alwaysAI): Fleet Management is the process of organizing, updating, deploying, and monitoring more than one edge or IoT device.
---
QUESTION: Can we train using local Workstation system 2080Ti?
ANSWER (alwaysAI): Yes. You can add in the number of video streams you want to use. Local workstation is done on the CPU. For platform customers, we have customized the contained to work with workstation-based GPUs, but that service is not offered in freemium.
---
QUESTION: So is the label of the given image its bounding box?
ANSWER (alwaysAI): An annotation object consists of a label as well as a bounding box; this represents the portion of the image that represents the label of interest. Here is some documentation on the actual format of the annotations overall.
---
Start the process by creating a free account, or schedule a demo to speak to our computer vision experts.
See below for the full video of the webinar, or click here.
Train in the Cloud, Run on the Edge With alwaysAI
About alwaysAI
alwaysAI® provides developers and enterprises a comprehensive platform for building, training, deploying, and managing computer vision applications on IoT devices. We unleash real-time insights to help businesses drive higher ROI and make computer vision come alive on the edge - where work and life happen.
Make advanced AI easy for your organization. Register for free to get started today, or schedule a demo and talk to our computer vision experts about your business.