In this episode of our Business of Computer Vision series, Marty Beard, Co-Founder and CEO of alwaysAI, discusses why 45% of retailers intend to implement computer vision in the next two years. Computer vision enables enterprises to gain real-time analytics, providing them insight into their customer's buying behavior and increasing safety and productivity across their entire value chain. CV empowers businesses to improve their operations, protect their assets and employees, and drive their top-line revenues!  
To illustrate just how much ROI you can expect, Marty demonstrates two interactive use cases from retail and manufacturing. Follow along to discover just how much ROI you can achieve with computer vision today! 
Boost Your ROI with Computer Vision

 
Businesses everywhere and of all sizes are seeing tangible results from computer vision on the edge. For example, retailers and manufacturing enterprises are achieving 5-6x ROI to help their top-line and bottom-line performance. Computer vision helps companies better understand their customers and optimize their manufacturing value chains in real-time. This is game-changing technology. Check out our ROI calculator on the Payoff section of our website to find out how we deliver higher ROI than competitors and save our customers time and money. Use these interactive calculators to see how businesses across multiple industries are achieving dramatic ROI benefits from computer vision AI technology.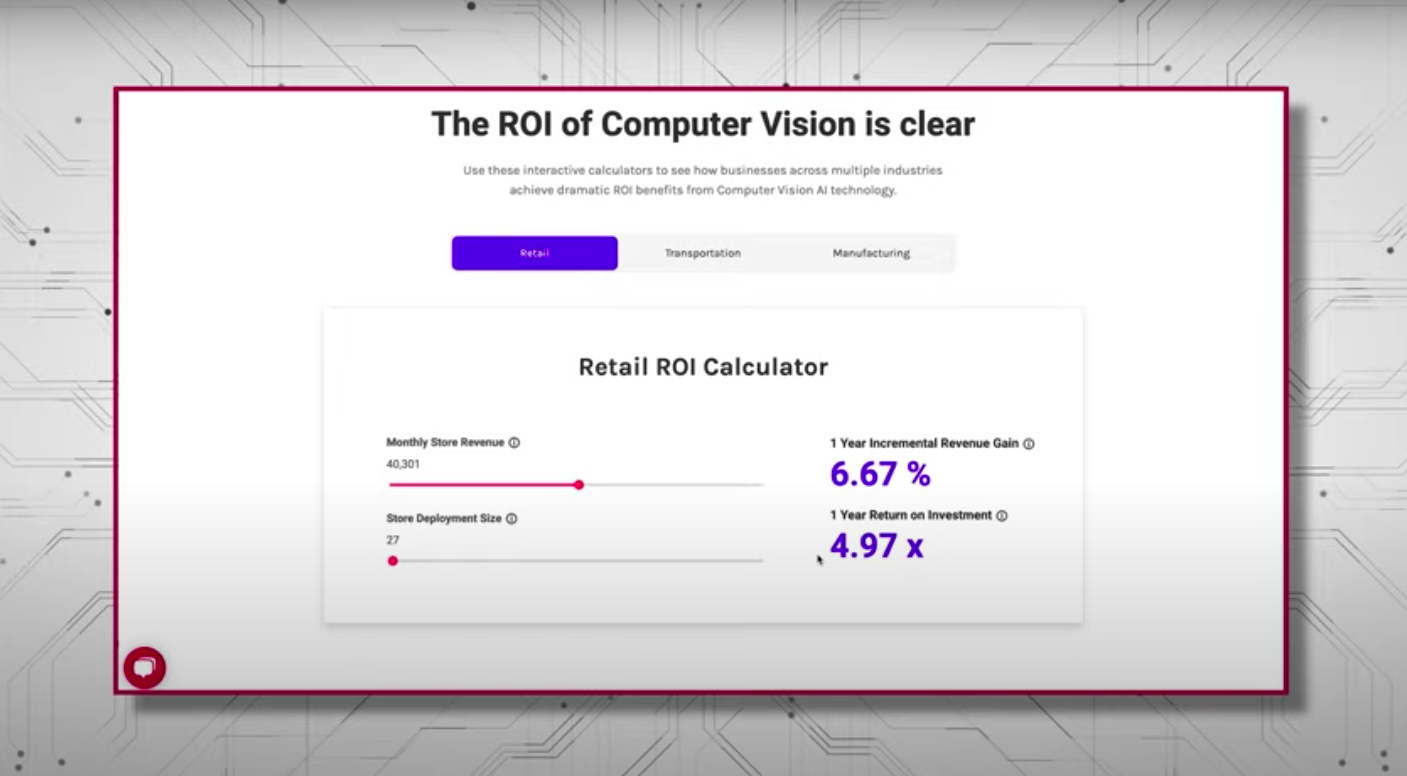 The Value We Provide
alwaysAI's cutting-edge development platform enables developers to prototype, implement, and deploy computer vision applications onto IoT devices at scale. Enterprises can achieve higher ROI through lower development costs and business analytics powered by AI, and they can also scale their IoT deployments faster. Customers leverage analytics from the alwaysAI platform to make effective business solutions. This is quickly becoming a best practice for all industries and is essential to achieving a competitive advantage in the years ahead. Make advanced AI easy for your organization. Register for free to get started today, or schedule a demo to talk to our computer vision experts about your business. 
We can't wait to see what you build! 
See below for the full video. 
---
About alwaysAI
alwaysAI provides developers and enterprises a comprehensive platform for building, deploying, and managing computer vision applications on IoT devices. We make computer vision come alive on the edge - where work and life happen. The alwaysAI platform offers a catalog of pre-trained models, a low-code model training toolkit, and a powerful set of APIs to help developers at all levels build and customize CV apps. alwaysAI has an easy deployment process and a state-of-the-art run-time engine to accelerate computer vision apps into production quickly, securely, and affordably.