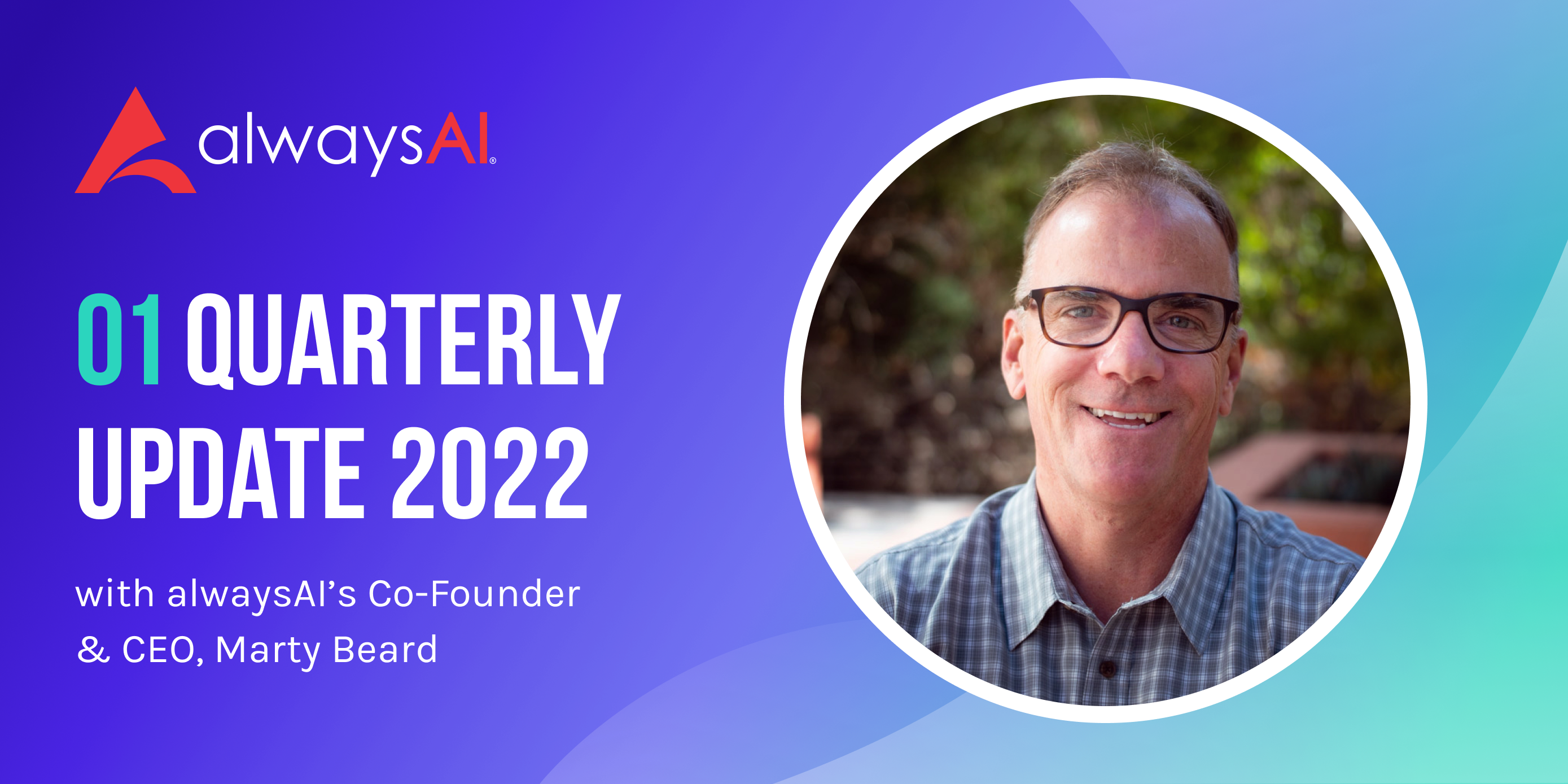 Welcome to our first quarterly update of 2022! 
Over the course of 2021 and into 2022 we have seen a dramatic increase in the demand for computer vision technology across all industries and verticals. The need for automation has grown due to supply and labor constraints, making machine learning and computer vision more viable solutions than ever before. alwaysAI's platform fulfills this growing need, bringing developers and enterprises a comprehensive platform for building, deploying, and managing computer vision applications on IoT devices. 
Exciting New Customers & Partnerships
We have recently worked with several amazing customers including DTiQ™, POS Upgrades, Inc., and Evolectric to bring computer vision to the edge. 
DTiQ™ is a leader in the quick-service restaurant industry, using alwaysAI's video analytics and machine learning capabilities to gain insight into customer experience and restaurant efficiency. 
POS Upgrades, Inc. specializes in contactless kiosks, using alwaysAI's computer vision tech to streamline and automate the checkout experience. This not only increases business productivity but also safety when used in high-traffic areas like airports or sports stadiums. 
Evolectric transforms trucks from combustion engines into electric vehicles, implementing alwaysAI's vision analytics to increase driving safety and effectiveness. Advanced driver assistance systems and computer vision go hand-in-hand.
We have also partnered with Hailo, a powerful hardware company, to bring deep learning computer algorithms onto low-power, high-performance edge devices. Alongside Hailo we continue to work with NVIDIA and their dynamic range of edge devices. 
We are looking forward to collaborating with more customers and partners in the transportation, retail, manufacturing, and construction industries throughout 2022!
Our Platform
We are excited to share improvements we have made to our platform as we continue to enhance it over time. There are 4 main components of the platform: models, apps & APIs, deployment, and analytics. We have a catalog of over 100 pre-trained models, the ability for developers to input their own models, and the capability to train and tune models seamlessly. Once a model has been selected, we provide a set of sophisticated Python APIs called edgeIQ to help build an application. Thirdly, we deploy apps through a docker container to get them easily onto edge devices. Finally, at the end of 2021, we implemented extensive real-time analytic capabilities so you can see immediate data from your edge device through a dashboard. 
Looking Forward 
In 2022, alwaysAI will continue to grow and evolve within the computer vision industry, showcasing the value of CV to enterprises everywhere. We will be doubling our San Diego-based team by the end of the year, hiring for CV experts, machine learning experts, individuals with sales experience in AI, and more (check out our careers page for info). We have also expanded our Cardiff-by-the-Sea office, providing more space for an incredible team of innovators. 
We are a product-led company, and will continue improving our platform for our customers. We want businesses everywhere and of all sizes to realize they can receive real-time business insight, improve their top line, and increase the efficiency of their operations with computer vision.
See below to watch our first quarterly update of 2022, or click the link.
If you haven't already registered for alwaysAI, make sure to sign up for your free account today and schedule a demo with one of our CV experts!